Magnetic signs are intended to be used on cars, trucks, vans and other vehicles. However, if you can find a surface that magnetics will adhere to, the possibilities are endless! They are a great form of inexpensive outdoor advertising in which you can display your company name, logo, phone number, website, or other contact information for people to see. Magnetics are a great solution for new and established businesses alike because of their removability and low cost. Additionally you can give this inexpensive option to employees to increase your advertising and visibility within your marketing area.
Whether you are advertising your business or planning a wedding, vehicle door magnets are sure to make a statement. You can make a huge impression for a low cost and be seen by thousands of potential customers a day by just driving around town. In a traffic jam? Well now your vehicle is a promotional tool. On the move for lunch, or dinner and want free advertisement? Parked somewhere downtown for the day and want free advertisement? Magnets!
At Signarama, our signs can be printed in full color allowing limitless possibilities and combinations. We use the highest quality materials to help protect the print from the outdoor elements that they will come in contact with. It is easy to remove and reapply your magnetic signs making them very dynamic for any situation.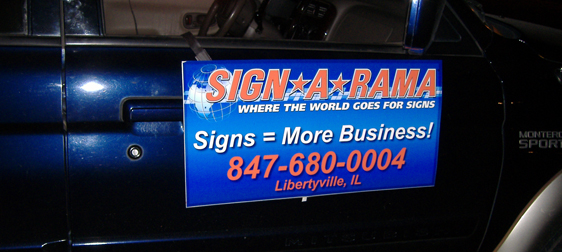 Dynamic & Durable Magnetic Signs
Placing these magnets on your vehicle will essentially transform your car or truck into a mobile billboard. Get a door magnet for every side of your vehicle for maximum exposure. Our magnets are durable and made to last!
Construction companies, security vehicles, pizza places, lawn care services, political parties, salon and skin care specialists, pet groomers, and so many more business companies can make use out of these types of signs. Other uses are warning signs, information value signs, and identity builders. They can help spread the word about anything and everything!
Call us today for a free quote!